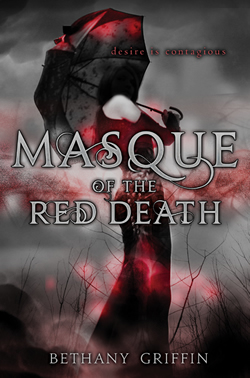 A devastating plague has decimated the population, and those who are left live in fear of catching it as the city crumbles around them.
So what does Araby Worth have to live for?
Nights in the Debauchery Club, beautiful dresses, glittery makeup . . . and tantalizing ways to forget it all.
But in the depths of the club? in the depths of her own despair? Araby will find more than oblivion. She will find Will, the terribly handsome proprietor of the club, and Elliott, the wickedly smart aristocrat. Neither is what he seems. Both have secrets. Everyone does.
And Araby may find not just something to live for, but something to fight for? no matter what it costs her.
This book was inspired by Edgar Allan Poe's short story which bears the same name but having never read the short story that didn't help me too much. All I knew was the short story was about the plague. So I guess I was expecting a story that was dark and maybe even tragic and I wasn't disappointed. At the start I wasn't pulled in immediately but that changed quickly and I couldn't put it down. Araby lives in a world of dead and decay, where every day to not contract the deadly weeping Sickness. Dead bodies are everywhere and air-filtering masks are necessary to avoid contracting this illness but only affordable for the rich. A domineering Prince rules the city from afar and lives apart from the threats that exist within the city. Araby spends her time in the Debauchery Club trying to forget and encounters two very different but equally mysterious boys. But the city holds even more mystery and there are rumors of an uprising and then the attacks begin. I liked the world that Griffin has created-part gothic, part dystopia. I loved how even when I had my set opinions about each character but then the author would manage to change everything and all of a sudden my opinion was the exact opposite. When starting this book I had thought it was just one book and not a series but sadly I was very mistaken. But even though there will be a second book the end was very very abrupt and it had me feeling a little lost and kind of agitated. There is this huge build up and then the story just stops. The second book comes out in April 2013 if I had known that in the beginning I might have wait to read this book till then so I was not left hanging.